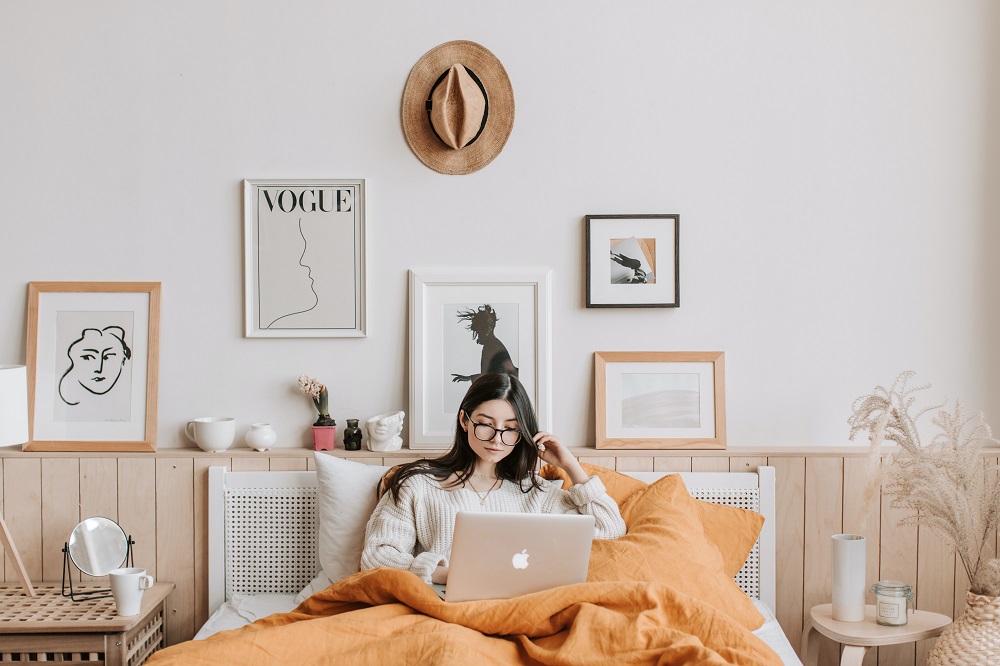 The shift to work-from-home and other social distancing guidelines in the wake of the global pandemic had us spending a lot more time cozied up at home in our beds. Some of us even have the luxury of working from bed! So, finding a comfortable mattress that you love is of the utmost importance — even if all you will use it for is sleeping!
The right mattress can have you waking up refreshed and rested, but the wrong mattress will have you tossing and turning all night, waking up grumpy, exhausted, and with aches and pains. Did you know that the type of bed you choose can also contribute to lower stress levels? It's no wonder the decision to buy a plush or firm mattress is one that can leave you agonizing over the pros and cons for months on end. That's where we come in. Rest easy because we are here with our expert tips for choosing the best mattress.
Tip #1 Define Your Mattress 'Must Haves'
Your list of mattress 'must-haves' will be unique to your body type, sleeping position, and personal preferences. Take note of how your current mattress makes you feel. Do you wake up with back pain? You may need a firmer mattress. Also, pay attention to your sleeping position as different mattresses work best for side sleepers, back sleepers, and so forth. Once you've got your list of musts for your new mattress, it's time to shop!
Tip #2 Compare Mattresses
The next step may be a bit time-consuming, but it's extremely important. For example, should you get a Saatva or Avocado mattress? A good start is to Google "Saatva vs. Avocado" — or any other mattress types you are researching, and see what other people who have actually purchased and used the mattresses have to say. When it comes to answering the question Saatva versus avocado mattress, Saatva mattresses have a very rare exceptional rating of 9.9 by ConsumerVoice.org. Here are some key features that customers love:
The innerspring hybrid mattresses are available in soft, medium, or firm.

Lumbar Zone technology supports the back and spine.

Saatva mattresses are made with eco-responsible materials.

Customers get a 180-night trial and a 15-year warranty.

Saatva provides free delivery and mattress removal.
Tip #3 Choose Your Firmness
Firmness is everything when it comes to a comfortable, pain-free sleep. There are many options when it comes to firmness, and they can differ from mattress company to mattress company, so it can become overwhelming. But, there are two main things to consider when it comes to choosing mattress firmness — your sleep position and personal comfort preferences.
Here's what we recommend by sleeping position:
Side sleepers — If you're a side sleeper, you need enough room in your mattress to allow your hips and shoulders to sink while your waist and lumbar are still supported. Your spine should stay straight and parallel to the floor when you lie down. Plush to medium is the ideal firmness for side sleepers.

Back sleepers — If you sleep on your back, you need a supportive surface that supports natural alignment. Just as when you stand up, it's important that your spine has a slight curve when you sleep on your back. But, there should be no more than a finger's width of space between your back and bed in order to avoid muscle tension. Look for mattresses in the medium to firm range.

Stomach sleepers — You need a supportive mattress that will prevent your upper body from bowing down — which leads to back and neck pain. Choose a bed that's firmer, and that includes a slight comfort layer. 
Other factors that impact which mattress may be best for you include:
Weight — Larger people fair better with firmer beds to ensure they receive adequate support and therefore may feel more comfortable with thicker comfort layers that cushion the curves sufficiently.

Medical conditions — Especially if you have pain-related conditions, including arthritis and fibromyalgia, extra support and pressure point relief will be an even more important factor than comfort. People with back pain should check out medium-firm options.
Tip #4 Test Out Mattresses
Trust us; we love the convenience of shopping online. But, a mattress is something you should purchase in person so you can get a feel for which mattress is most comfortable to you. It's important to test as many mattresses as you can so you can choose the one that suits your needs and feels best for you (and your partner if applicable). If you must shop online, choose a mattress company that offers an extensive trial program so that if after a few nights your new mattress gives you more pain, or it wasn't what you were expecting, you'll be able to return it risk-free.
After you take the plunge and purchase your new mattress, you'll likely want to do some deep cleaning to get your room ready to transform into a cozy, peaceful sleeping zone. Don't forget about proper mattress disposal, and recycle your mattress! Mattress recycling has several benefits, including helping the environment. In fact, more than 75% of a mattress can be recycled into other products, which diverts valuable resources from local landfills.