As a parent, you know that doing household chores is a simple way of helping children discover their abilities. Chores also teach them the value of responsibility. You know the benefits of training them to do chores as early as possible. But, kids do not understand this, so most of them turn dramatic when chore time comes around.
It's frustrating and challenging, but there are things that you can do to help your kids slowly embrace doing chores at home. Of course, it's not an overnight thing, so you'll have to invest your time and effort, but anything good that involves children is always a good investment.
Here are some things to do to encourage your kids to do chores without them having to churn out some dramatic excuse. While no two situations are the same, practical solutions can be helpful for any parent.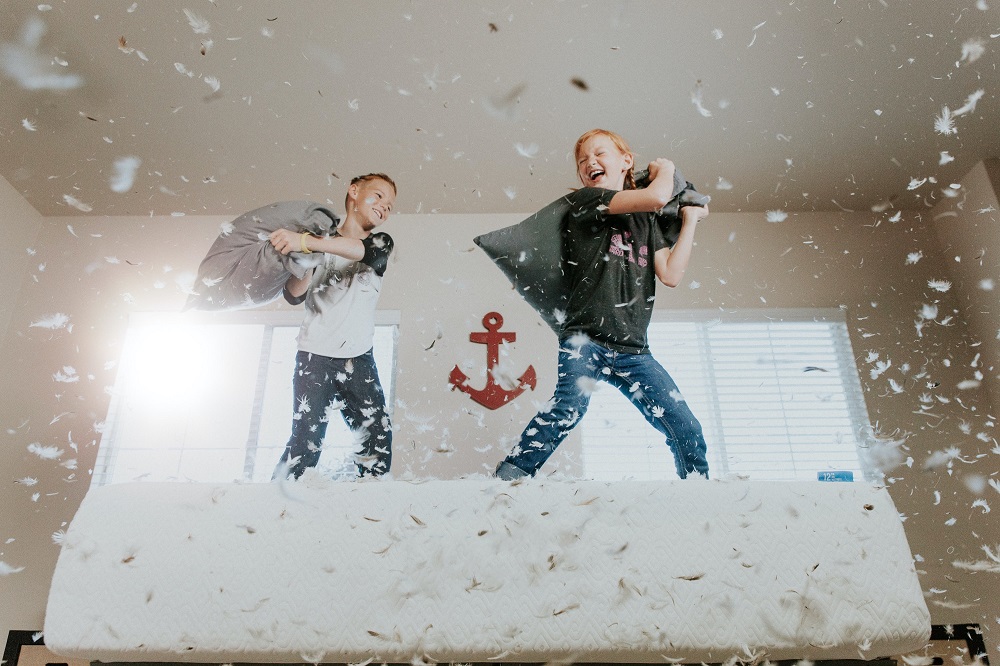 Tips for Getting Your Kids to Do Chores
1. Show your kids how it's done.
Your children look up to you. They like to imitate what you do. They like to dress up the way you dress up. To them, you are perfect. So, set a good example to your kids by showing them how fun and rewarding doing chores can be.
When you're doing a chore or activity, like washing the dishes, ask your kids to join you and watch what you're doing. Kids are curious, so they will want to learn more about what you are doing. If you do this regularly, they will eventually learn and ask to help out.
Your kids will love doing all sorts of activities with you.
2. Create a points and rewards system.
Motivating your kids to do chores can be easier if you have something they can look forward to every week – like rewards.
So, come up with a points system for every chore, and at the end of the week, you can assign rewards to those who did their assignments well. You can use apps for this, such as a kids debit card where you can directly send their rewards. It's a win-win situation – your kids will slowly warm up to the idea of doing chores, and you also get to teach them how being responsible can be rewarding.
Using a debit card app for your kids is also a good way of teaching them how to save. It's one of the fun ways for your kids to earn money – so that's another win.
3. Keep your kids away from distractions.
Video games, TV shows, toys….these are all distractions that can pull your kids' attention away from their chores. So, you have to try to keep them away from these things. You can try to explain why distractions aren't good, but it's better if you try to find a way to motivate them. Focus on your kids and what can make them feel happy and appreciated.
4. Schedule your kids' chores. Let them help organize their chores.
Drawing up a schedule for your kids' chores is one of the best things you can do for them. A schedule chart will not only help you organize the chores well, but it will also help instill good values and practices in your kids.
You can talk over the schedule with your kids. Letting them help will make them feel special, like their ideas matter to you. Be sure to start with simple tasks like making the bed, taking out the trash, cleaning the bedroom, and setting up the dining table.
You do not want to put too much burden on your kids, so assign one chore for each of them per day. When they grow older, they'll eventually move on to doing multiple chores.
5. Let your kids have fun.
Kids like having fun with whatever it is that they're doing, so there's no reason why you shouldn't do the same thing for their chores. You can do this by adding activities and games to their tasks. For example, you can come up with a contest on who can finish cleaning their bedroom first. You don't have to give a monetary reward; just let them know you appreciate their hard work. You can also hand out paper medals or maybe even a DIY chore king/queen trophy.
You can use the contest as a way of teaching them that doing their responsibilities and giving their best will be a positive, rewarding experience.
The tips above are just a few things that you can try to do if you want to encourage your kids to do chores without any drama. You should also remember that as a parent, it is your responsibility to believe in your children and what they are capable of doing – no matter what their age is.
About the Author:
Samantha Green is the Content Marketing Strategist for the MCA award-winning app, BusyKid, the first and only chore and allowance platform where kids can earn, save, share, spend, and invest their allowance. A mom of two, she enjoys spending time with her kids and reading books to them.