Best practices and mistakes to avoid at the grocery story during the COVID-19 pandemic
Minimizing cross-contamination is the highest priority when you go to the supermarket. Many people are not actively prepared on how to minimize contact to avoid the spread of germs. Preparation is key, therefore, the first mistake people are doing is not preparing enough.
1. Prepare a space in your home for when you return from grocery shopping.
This area has to be cleaned and disinfected before you leave so that your groceries can be cleaned when you return. Have a change of clothes ready if possible. Make sure to have the cleaning products you will be using already set out and ready for use for when you return from the trip. When returning from the trip, remove your shoes outside or by the door entry and begin to place the grocery items on the area you prepared. Throw away any plastic bags and wash your hands to begin cleaning grocery items. After cleaning all the items, wash your hands again and disinfect high touch areas such as door knobs or faucets then clean your hands once more after. Disinfect the countertop where all the items were before you cleaned them.
2. Carefully after cleaning the groceries, it is recommended to change into different clothes.
Place dirty clothes in a dirty hamper or in the washer machine to be cleaned as soon as possible. Disinfect shoes, purses, wallets, reusable bags, keys, masks, gloves, and any other items you plan on reusing again.

Now that we have covered the basics on grocery shopping, here are the most common mistakes while at the grocery store:
1. Not having a grocery store list ready for your trip.
By spending more time at the store and touching multiple items you are likely to increase the chances to come into contact with a virus. Have a list ready, pick the items you need and that you are sure you will purchase and place them in your cart.
2. Not wiping down the cart handles before putting your hands on the cart.
Many supermarkets are following CDC cleaning and sanitizing protocols, however, make sure to also clean carts if you are able to by wiping down the cart handle.
3. Put the smartphone away!
If you are grocery shopping, place your phone in your bag or pocket and avoid touching your phone until your hands are cleaned and disinfected again. Set your smartphone on silent or do not disturb so that alerts don't tempt you to check. Bacteria can live a long time on your phone screens, and it is one of the items you come into contact the most. Wipe down your smartphone with an antibacterial wipe once you are done grocery shopping before using it again.
4. Not disinfecting or cleaning your car.
All the groceries you touch will transfer the bacteria to your car handle, steering wheel, radio, and possibly in your seat. After grocery shopping, include your car as a high touch area and clean them so that it is safe for when you use it again.
5. Not disinfect high-touch items such as: wallets, glasses, masks, shoes, credit cards, gloves, pens, keys, etc…
These are items that will either come in contact with the cashier (credit cards, wallets, gloves, pens), are used frequently, or that protect you from the environment. Make sure to properly sanitize them before touching your eyes, nose, or mouth.
6. Keeping receipts, plastic bags, other papers.
We understand the necessity to keep receipts, however, paper can carry bacteria as well. Placing them in your wallet could contaminate other items. Throw them away or keep them in a different bag with all other paper receipts in the mean time.
7. Using baskets instead of carts.
During a time like this with the novel coronavirus pandemic, it is best to use a cart as it can barely touch your clothes and all you are using are hands to touch the handle. Using a basket, especially if it gets heavy, can come into contact with your clothes or skin. The baskets are harder to sanitize and clean and are inconvenient to track as people sometimes leave them at odd places in the store. If a cart has been inside the store, you could check the supermarket policy, as it has likely been cleaned between uses before entering the store again. However, always double check and clean it yourself.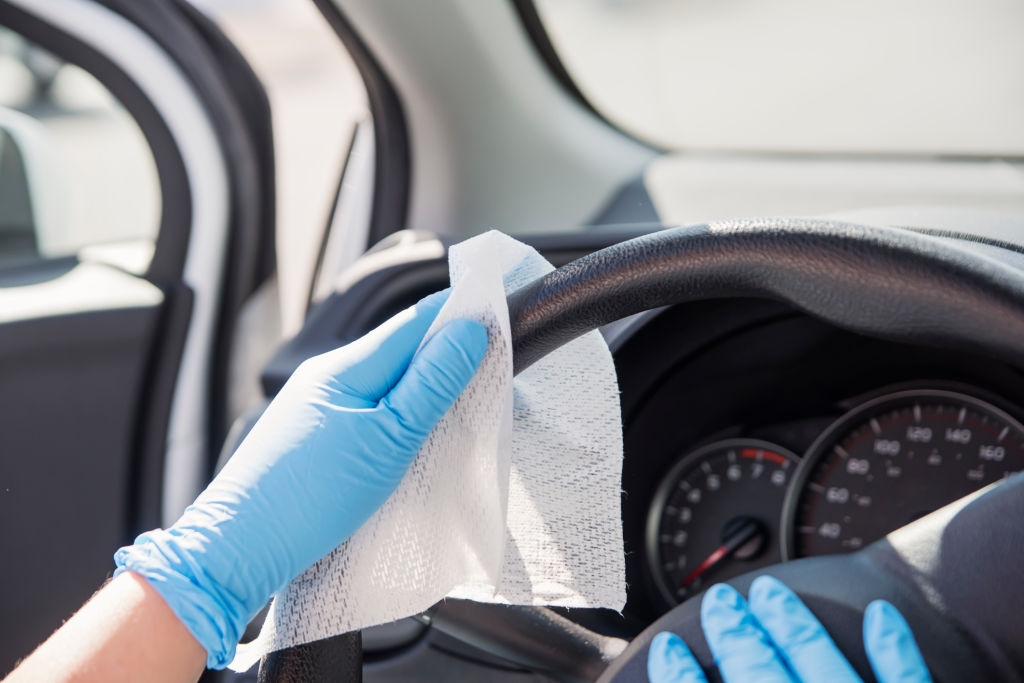 8. Not keeping 6 feet apart.
Grocery stores, especially if they are a small store, can easily become a hassle to follow the social distance rule. If someone is in the dairy section, wait until they leave at a safe distance before approaching the area. The same goes to when you are cashing out, waiting in line, or speaking to a worker or friend. Limit the closeness and be patient, including when passing by others as well.
9. Use bags provided for fresh produce such as fruits and vegetables.
Placing bananas, mangoes, avocados, or any other fresh produce item directly on the cart is not sanitary. You can dispose the bags later and store them in alternative containers at home.
10. Not wearing protective gear.
Please protect yourself and others by using masks, bandannas, scarves, gloves, layers of clothing, glasses, hats. This protects your face, hair, skin, and decreases transmission rate.
11. Paying the cashier without sanitizing after
After coming in contact with cashier, if possible disinfect hands and place wallet inside a separate bag to disinfect later. It is better to decrease contact with clothes, your pockets, or your purse and purse items. Avoid laying it on the cart or counter and disinfect later as mentioned earlier.
12. Wearing open-toe shoes.
For the best protective measure, try to reduce skin exposure by wearing closed-toe shoes.
13. Putting any items back on the shelves.
If you noticed you no longer want an item, wait until you are checking out and give it to the cashier. They will properly sanitize it before putting it back on the shelves. It is better to do that rather than putting it somewhere random where more people might pick it up and place it back.
14. Picking up items from where they are not originally placed.
If you notice a ketchup bottle in the cleaning isle, and it is a grocery item on your list, leave it. You do not know who picked it up before you or how many other people have touched it. Just go to the isle, and pick up the item there.
15. Double check your items please.
Now more than ever, we have to make sure no items you are purchasing have been opened before you. Check that no cereal boxes, milk, juices, teas, coffees, frozen items, ice creams containers, mouthwashes, and soap containers to name a few do not have a broken seal. Always double check before you purchase an item, especially if it is from a clearance section. You do not want an item that could have already been opened and used, or potentially been contaminated by someone's germs from licking, spitting, or snot. As we all know about the ice cream challenges that took place once that were punishable by jail time. The same remains true even now, please double check items.