There is nothing more satisfying than pinpointing your garage. It often has us climbing over things to get to the back corner. It's completely dissatisfying going through potential cobwebs. But when we start to organize a little section, we can convert the entire garage into a clean and decluttered oasis. 
To achieve best results, we will invest in items to help organize everything in the garage. It's a full-scale project to learn how to clean garage floors and eliminate the grime and dust. There is a lot of ground to cover, let's get started!. Here are our 24 garage organizing and decluttering ideas!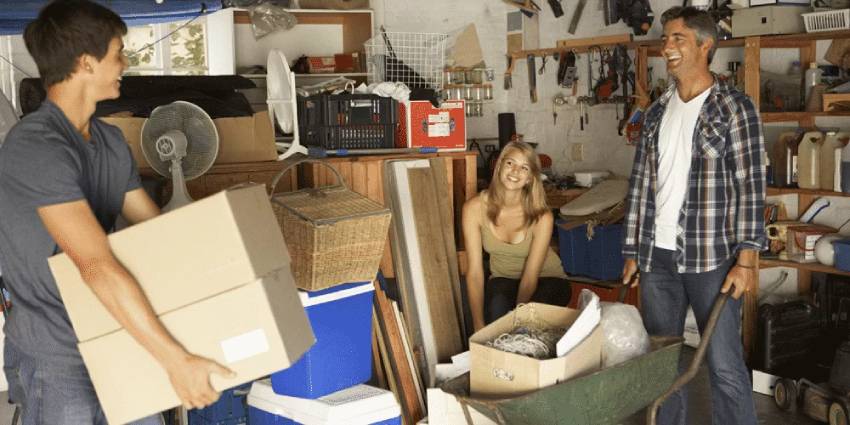 Ideas For Cleaning Out Your Garage
Here are five ideas to start the cleaning process. This is one of the most important pieces to setting your garage up for success. 
1. Take It All Out
To achieve a deep clean, first, you'll have to take everything out of the garage to completely free up the space. This means you will want to choose a day when the weather is good and your items won't get ruined from being outside. For now, just take everything out and put it into one section of your driveway or lawn. 
Deep Cleaning 
When everything is out you'll need to start your deep cleaning. There are two tips for this section. 
2. Deep Clean the Garage
First, you need to know how to clean your garage floor. Run a vacuum over the floors and a hand vacuum over and in any existing shelving or cabinets. Next mix a half cup of baking soda with a gallon of water and mop the floors. Use a hand cloth to wipe down the cabinets. Let the entire area dry out while moving on to the next step. 
3. Deep Clean Your Items 
While the garage is drying you can mix fresh baking soda and water to wipe down your items. You don't want to bring any dirt or dust back into the garage after you've done a great job of cleaning it. 
4. Make Item Piles
Now let's move to organization. After you have cleaned all the products, you will want to organize them into different piles. For example, tools, first aid, and smaller items can be grouped initially together. Then you may want to take larger items like bikes, toys, and more into another pile. Using these garage organizing tips is great, but remember that your preference for groupings should come first. 
Examples of Groupings:
Tools

Medical supplies

Gardening

Decor

Auto
5. Throw It Out
You'll want to dedicate a pile for items you want to donate or throw away.
Anything that no longer works can go into this pile
. If you have double anything that you don't need, you can donate it. This is an important step in how to organize a garage because it declutters everything. 
When to Throw Out
When to Donate
Have multiple

Never use it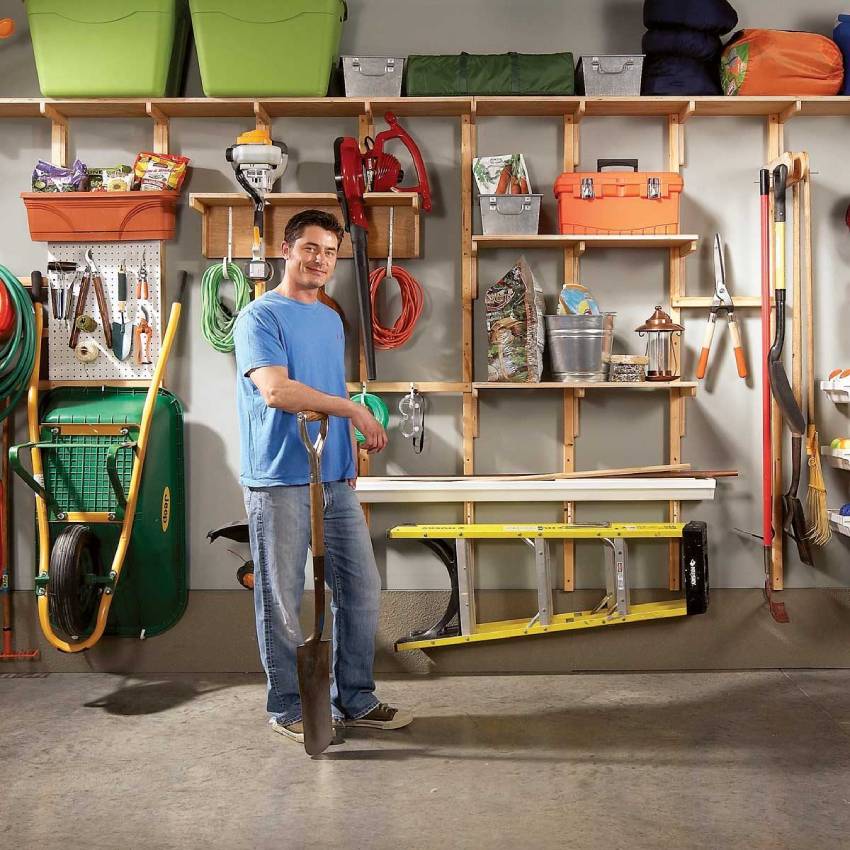 Ideas For Organizing Your Garage
Now we can talk about organizing the actual garage. We can look at garage storage ideas and garage organizing bins to help make this section easier. These are 10 great garage storage ideas to take advantage of. 
Layout Your Item Spaces
Now that you have piles where things seem to make the most sense in pairings, we can do a layout of the garage so we don't get halfway through the process and need to start over. Follow these four tips. 
6. Design Your Garage
The first thing you need to do is make a rough layout of your garage. Any existing shelving or storage that you plan to keep needs to be included in this design. If you don't have garage ceiling storage, then we will suggest adding some with the tools you can incorporate. Fill in the storage spaces with ideas of where things will go. 
First, lay the garage out as a sketch

Write in the spaces where things should go

Put items away one group at a time
7. Consider What Needs to Be Most Accessed
Anything on your sheet that is going to be accessed daily, such as bikes, tools, or cleaning supplies, should be easily accessible. Things like Christmas or Holiday decorations can be put in other areas. Gardening supplies and seasonal things can be put in one space or be reorganized seasonally for better access. 
8. Put Items You Don't Use Regularly in Hard-to-Reach Spots
Seasonal items can be moved from easy-to-reach to hard-to-reach areas like storage that is put in the corners or above the ceiling. This also may be cleaning supplies or tools that you only use in a bloom moon. This optimizes your storage so that you don't have to waste time getting out things that are hidden in the back of piles.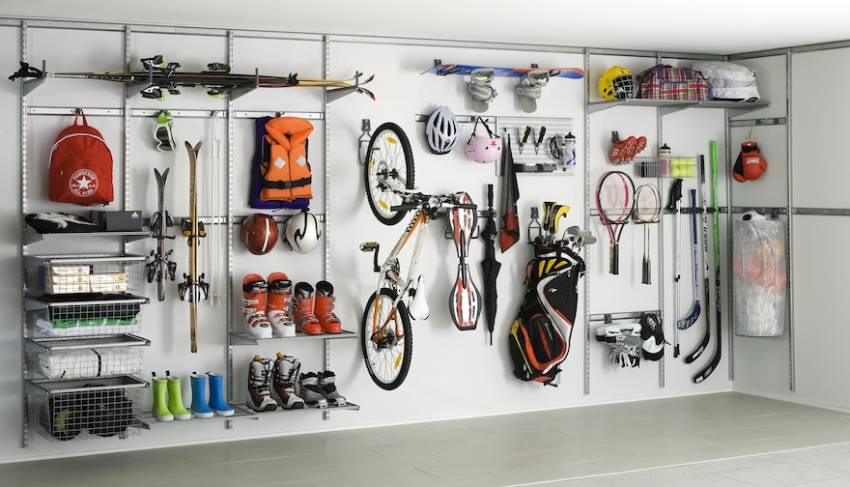 Using Organizing Systems 
A garage is much better organized when you have spaces that are designed for tools that can optimize certain spaces. Shelving, and storage bins, among others, are always good to have. Here are six tools and organizing systems that will make your garage layout ideas much easier to apply. 
9. Garage Shelving
Having permanent shelving installed on the walls and even on the ceiling is fantastic. It creates more space for other organizational tools. This allows you to compartmentalize even more and fit items into bins that are true to their size. Remember that open shelving to see everything is better than closed cabinets. 
10. Clear Plastic Bins
Garage organizing bins go perfectly with organizing shelves.  You must keep them clear and label the boxes. This will allow you to easily see the inside instead of having to take everything down and open it. When it comes to garage organizing tips, it's important to remember what you need to access more because likely you will be able to stack them. 
11. Garage Organizing Hooks
Hooks are great for so many reasons. Of course, you can put keys, jackets, and more on them but it eliminates you from having to search for everyday items. It uses the wall space efficiently as well. You can even hang a pegboard in the garage to store important pieces of information that you will see on the way out. 
12. Locked Cabinet Space
Having a space that is childproof is important. You will naturally have hazardous materials for things like lawn care that you don't want anyone getting into. Locking it up in a child safe space is an often underused garage hack that we could all use. This is also great for tools. 
13. Garage Mat
Having a mat to wipe off your feet is great for keeping both your house and garage clean. Dust build-up around your garage that gets kicked around can ruin your tools. The less debris the better. It doesn't hurt to put one mat outside too. 
Places Where You Can Get Customized Mats:
Etsy

Amazon

Pinterest
14. Pullout Clear Drawers
If you can't use permanent shelves, a great option is pull-out bins. It's still applicable that you want to get see-through bins so that you don't waste your time guessing. This is also where labeling comes in handy.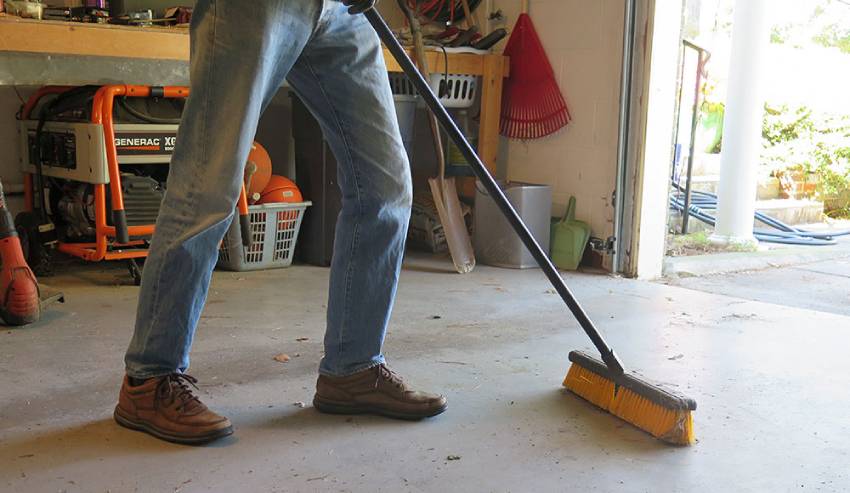 Ideas For Keeping Your Garage Clean
Maintaining a clean garage can be just as hard as cleaning the entire garage in some cases. But if you do things properly, you will only need to do maintenance from time to time and bigger cleaning once in a while. Here are some DIY garage organization and cleaning tips that are worth using. 
15. Keep Things Off The Floor
Keep stuff off the floor, this is the best way to avoid getting your floors dirty and creating a bigger mess. This is why wall shelving, hooks, and garage ceiling storage are the most optimal ideas to pursue. This actually includes your shoes as well. There are plenty of garage shoe organizer shelves that come pre-made and can hang from your hooks. 
16. Keep Your Car Outside During Warmer Months
If you have the possibility to keep your car outside of the garage during better climates, make sure to try it. Bringing your car in and out of your garage can bring a lot of dirt and unwanted debris into your home and garage. Keeping it outside avoids this. 
17. Clean Your Tools and Products
While a garage is not the first thing, you think of cleaning from time to time. But ensuring that the products get a wipe-down will help keep the cleaning to a minimum down the road. Build-up, as mentioned, can cause you to replace the products as well. 
18. Seal Up Open Spaces
When you have cracks and openings between the garage and the outside, you are leaving room for things to blow in. This can make your garage a lot dirtier than you think even if it is the tiniest of spaces. To avoid this, you can use silicone or rubber seals to block the openings.
19. Divide Your Containers
Maximize the space from your containers and boxing by placing little dividers in them to separate tiny pieces. It also helps create more organizing so not everything blends together. This could be tool parts like nuts and bolts or something like holiday ornaments so they don't break. 
20. Use More Wall Hooks for Awkward Items
Gardening tools are oddly shaped. They don't really fit in containers and putting them on the floor is not ideal. That's why using wall hooks and vertical storage is one of the best approaches to this. Keep the groupings rule still in the palace so it's not randomly hung. 
21. Get Your Label Maker Ready
Nothing should go unlabeled. The more labeling you have the easier it is to find everything. While you can certainly write it all out on tape, this wears after time. Label makers are great because they get the job done faster. 
22. Have a Workbench
If you have some room in your garage, it is always a nice idea to have a workbench. This keeps it from cluttering the inside. Also, you may find yourself doing messier projects in the garage. Having a workbench can help contain it in one area. 
23. Have a Separate Garage Vacuum
If possible, have a second garage vacuum. This helps keep stuff out of the house and garages tend to have a lot more dirt and debris. You'll also need a hand vacuum or extension to get to higher-up areas if possible 
24. Personalize Your Space 
Usually, garages are the part of the house that gets forgotten. However, if you add your own style to it,  it can be an organized and delightful place to be. If you set up a workbench and it's clean you may enjoy various projects from your garage. 
Take It Step by Step
The list may seem overwhelming but it's not meant to be done all at once. It's here to provide you with feasible ideas that will work. Not every idea will work for everyone's garage type of situation. Based on your budget and needs, take what works and leave what doesn't.  
You can also start little by little and slowly add on as you go. While it's good to add all you can in the beginning when you have it all out of the garage, it's not necessary to overload yourself right off the bat. The important thing is to take various steps to start organizing your garage and maximize your space.