If you've got a busy lifestyle, staying organized can be difficult. Social engagements, kids' activities, work commitments and more can eat into your downtime until it feels like you never get a break. Many people enjoy the benefits of having a regular cleaner take care of the household chores that can overwhelm their free time, but if you find yourself relying on takeout for quick and easy meals, are always on the go, and can't remember the last time you got to unwind and put your feet up, you might need a housekeeper who can help you stay on track. Use our housekeeping 101 to find out if employing (or working as) a housekeeper is right for you.
What is housekeeping?
Housekeeping refers to managing all the duties that go into running a home. That includes cleaning and tidying, but also preparing meals, grocery shopping, and even paying the bills. A housekeeper can help you keep track of a busy schedule, make sure the kids have done their homework, run errands, and prepare delicious, home-cooked meals for the whole family each night.
Housekeepers are also common in industries that provide accommodation, such as hotels and hospitals. Commercial housekeepers manage cleaning staff, inspect their work, and oversee the cleaning and repair schedule to ensure that everything is kept in good condition.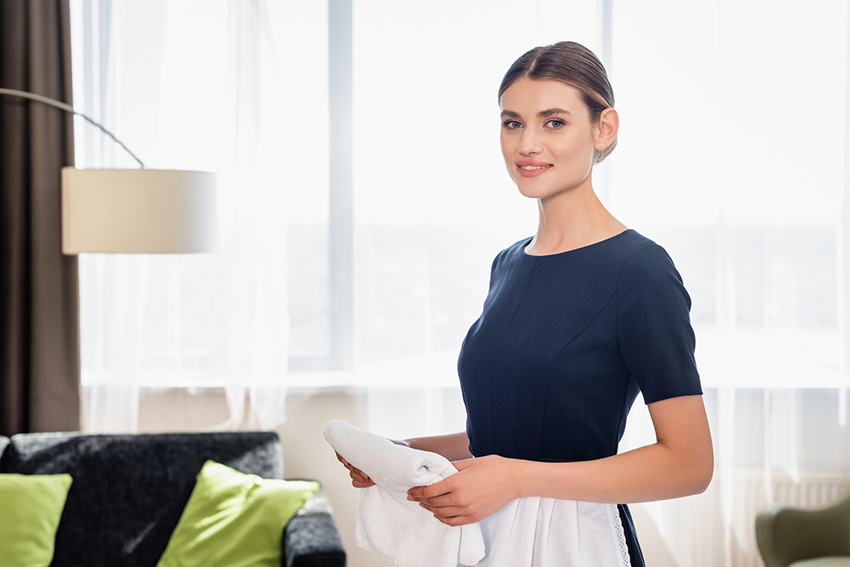 What does a housekeeper do?
In private homes, housekeepers support their employers by taking care of all the aspects of ensuring the home runs efficiently and is kept in good order. As well as cleaning and tidying, preparing meals, and running errands, housekeepers can organize and oversee additional staff, such as gardeners and window cleaners, to ensure the home is immaculate inside and out. Your housekeeper will also take a proactive role in keeping your home in order by organizing toys and possessions to prevent clutter from building up, and make suggestions about how you can more efficiently use your space.
Employing a housekeeper can also help you stay on top of the maintenance chores that often get overlooked on a day to day basis. Your housekeeper can clean the oven, rotate your pantry so food doesn't go to waste, schedule maintenance tasks such as gutter cleaning and tree trimming, and deep clean appliances so they work more efficiently and last longer.
Many homes have unique needs that a housekeeper can also meet. If you have kids with busy schedules of their own, a housekeeper can help you take them to practices, games, and appointments. A housekeeper can even help you balance the household budget, sourcing groceries that won't break the bank and devising meal plans to fit your tastes and diet.
The difference between a housekeeper and a cleaner
| | | |
| --- | --- | --- |
| TASK | CLEANER | HOUSEKEEPER |
| Dusting | Yes | Yes |
| Vacuuming | Yes | Yes |
| Ironing | Extra fee | Yes |
| Changing beds | Extra fee | Yes |
| Organizing kids' toys | Minimal | Yes |
| Decluttering | Minimal | Yes |
| Washing dishes | Yes | Yes |
| Laundry | Extra fee | Yes |
| Scheduling appointments | No | Yes |
| Grocery shopping | No | Yes |
| Paying bills | No | Yes |
| Managing calendar | No | Yes |
Pro Tip: See all the differences between housekeepers and maid services.
Even if you think you don't have enough work for a housekeeper, you might find employing one pays for itself by saving you time and helping you manage your home. And unlike a cleaner, who might only visit a couple of times each month, a housekeeper will stay on top of all your cleaning and maintenance chores every day, meaning you might neve have to wash a dish or iron a shirt again.
Common housekeeping duties
Sweeping and dusting
Cleaning and sanitizing kitchens and bathrooms
Tidying and vacuuming
Making and changing beds
Wash, iron, and put away laundry
Maintain stocks of cleaning supplies
Emptying trash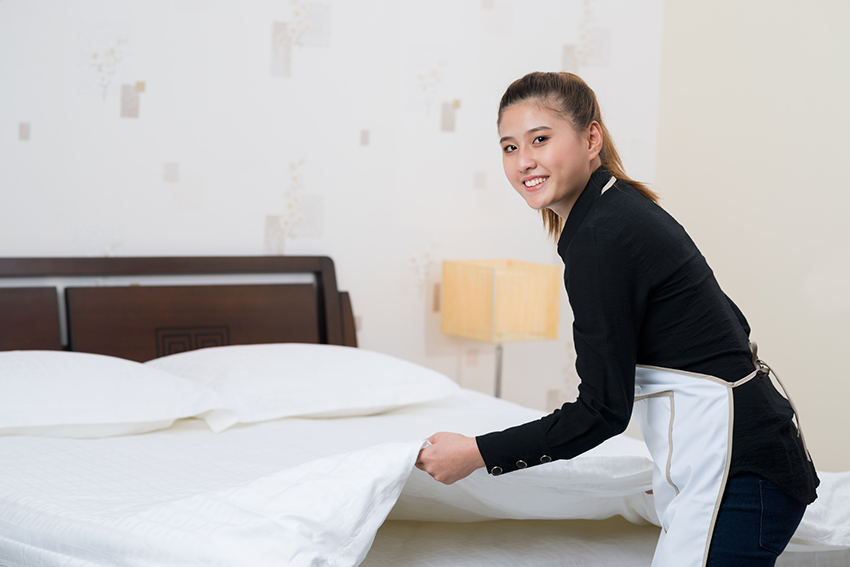 Different types of housekeeper
Many businesses rely on housekeepers to oversee cleaning staff and ensure that all tasks are performed to the highest standards. If you run a bed and breakfast, boutique hotel, or have several vacation rental properties to manage, a housekeeper can help ensure your guests always have a five-star experience by centralizing the cleaning and maintenance responsibilities, without adding more work to your schedule.
Hospital housekeeping jobs involve ensuring that all areas of the hospital are kept clean and sanitized. This is especially important in a hospital setting because of the risk of transmissible illnesses and contamination. The housekeeper will typically oversee a full roster of cleaning staff and ensure that every room is routinely cleaned to the highest standards. Hospital housekeepers should have general knowledge of how to mitigate germ and disease transmission, and be trained in cleaning to a high sanitation standard.
Hotel housekeeping involves overseeing cleaning staff to provide daily turndown services for occupied rooms, and deep cleaning rooms between guests. Depending on the size of the hotel, a housekeeper may work alone, with a small team, or oversee a large cleaning staff. They will work with the front desk to stay informed of room occupancy, and specific guest requests. A hotel housekeeper will also be responsible for ensuring the cleanliness of all areas of the hotel, and may also supervise outdoor maintenance crews.
For homes where a full-time housekeeper is unnecessary, a light housekeeper may be the ideal solution. They take charge of day to day cleaning and tidying, water plants, make beds, and help with organizing belongings to avoid clutter building up.
An executive housekeeper usually heads up a large department of cleaning staff. As such, executive housekeepers are usually found working in large hotels, hospitals, and other facilities, and undertake a managerial, rather than hands-on, role. Executive housekeeper duties include managing staff and cleaning schedules, work inspections, and associated administration and human resources tasks.
Private residences may decide to hire a live-in housekeeper if they require work outside of regular hours, such as getting children ready for school, or preparing for and cleaning after regular dinner parties or other evening entertainment. A live-in housekeeper will typically work closely with the household to keep the home running on schedule and ensure everything is always clean and orderly.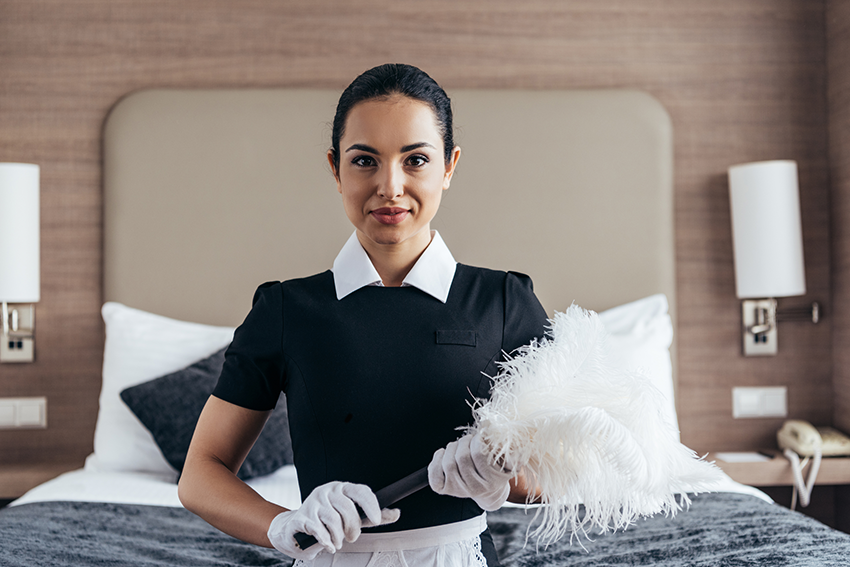 Pros and cons of hiring a housekeeper
Hiring a housekeeper isn't for everyone. These are the main pros and cons to consider before hiring:
Pros of hiring a housekeeper
No more cleaning jobs you hate
Everyone's got at least one chore they'd be happy to never do again. When you hire a housekeeper, you can say goodbye to that task for good!
The house always looks good
You'll never have to worry about a friend or neighbor arriving unexpectedly, because the house will always be guest-ready. Keeping your home neat is also better for your mental health, providing a welcoming sanctuary where you can retreat each day.
Housework is done by an expert
Some people clean better than others. When you hire a housekeeper, all your cleaning will be done by an expert. That means everything in your home will be thoroughly cleaned, using the right equipment and cleaning products.
Live a more organized life
Housekeepers don't just keep your home clean, they can also lift the burden of too many responsibilities from your shoulders. If you always feel like you're on the go, a housekeeper can help by running errands on your behalf.
Perhaps the biggest advantage of all is the time you can save. The average American spends six hours each week cleaning (seven hours if they have kids). When you hire a housekeeper, you recover that time — plus additional time you'd usually spend shopping for groceries, picking up prescriptions, running to the post office, and completing all the other small tasks that need to be done each week.
Cons of hiring a housekeeper
The main hurdle preventing people from hiring a housekeeper is the cost. Employing somebody full-time is never cheap, and the best housekeepers command a high fee. However if your time is more valuable to you when spent doing things you love, rather than chores, then the cost of a housekeeper could be well worth paying.
Finding a trustworthy housekeeper
Letting someone into your home, particularly while you're out, can be nerve-racking. Finding a housekeeper you trust can take a while, but it's worth holding out for someone you feel comfortable having around.
Even if you don't think you're particularly fussy about how things are done, you probably have a certain way you like your home to be organized and chores to be completed. It can take time for a new housekeeper to learn the ropes so it helps to be patient while your housekeeper settles in.
If you've always managed your own home, it can be hard to let someone take over, even if that's why you hired them. From grocery shopping and meal planning to putting your clean clothes away, you might find it hard to let go of some chores.
Learning to share your home
A trusted housekeeper becomes like part of the family, but they're still a stranger when you first hire them, and that can make sharing your home a little awkward until you get to know one another. Straightforward communication makes the transition easier, so don't be afraid to ask the housekeeper how they'd prefer to work around you and your family in order to find an arrangement that's comfortable for everybody.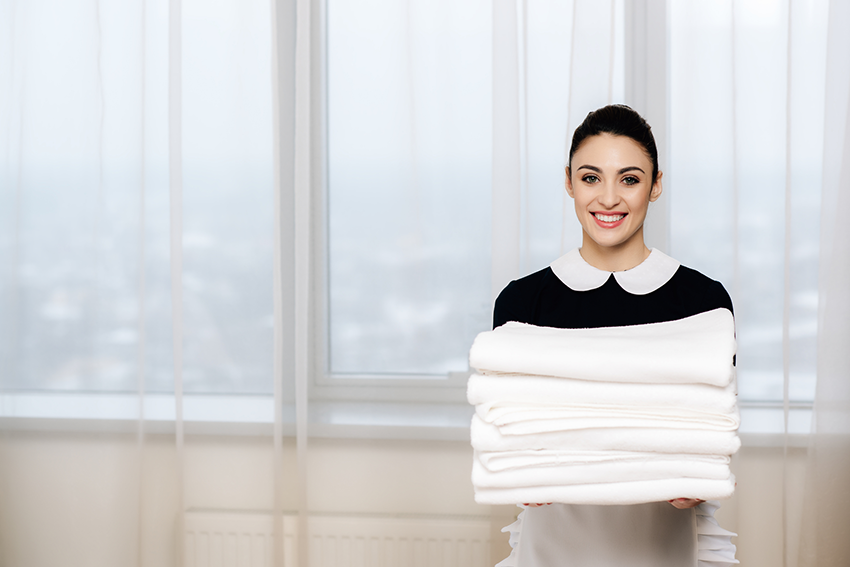 The average cost of hiring a housekeeper
While the cost of an American housekeeper will vary depending on the extent of their duties, their experience, and the cost of living in your area, here are some basic guidelines:
| | |
| --- | --- |
| TYPE OF HOUSEKEEPER | AVERAGE HOUSEKEEPER SALARY |
| Hotel housekeeper | $10-$12 per hour ($23,000 annually) |
| Hospital housekeeper | $10-$12 per hour ($23,000 annually) |
| Executive housekeeper | $18-$20 per hour ($40,000 annually) |
| Domestic housekeeper | $18-$20 per hour ($40,000 annually) |
| Live-in housekeeper | $12-$15 per hour + room and board |
How much to tip a housekeeper
The etiquette around tipping your housekeeper depends largely on the basis of their employment. For cleaners who work in your home every week or two, tipping a standard 15 percent of the cleaning cost is acceptable, or $15-$20 per visit. If you have two or more cleaners working together, split the tip between them.
Similarly, if your housekeeper works part-time in your home, tipping them on the days they work is appropriate. However if you employ a full-time or live-in housekeeper, it's okay to provide a bonus or thoughtful gift at the end of the year, rather than tipping each day.
When staying at a hotel, it's advisable to leave a small tip, around $2-$5, for daily turndown services. Tip on a day-by-day basis, rather than leaving a larger tip at the end of your stay, as your cleaning staff may be different each time.
Do I need a housekeeper?
Many people find the idea of employing a housekeeper appealing, but worry it isn't a service they really need. A permanent household staff seems like something for only the richest people, in the largest houses. However that isn't always the case. If you have a busy schedule, less free time than you'd like to enjoy, or would rather spend your time doing something more exciting than housework and chores, then employing a housekeeper could be a perfect solution.
Studies have shown that buying time makes us happier, even (sometimes especially) when the amount we spend is a significant proportion of our income. The value of hiring home help isn't just in avoiding a hated chore, but also in your mental wellbeing — removing the anticipation of needing to do the chores, anxiety about the state of your home if an unexpected visitor arrives, arguments over whose turn it is to do the chores this week, and resentment that you're spending your precious free time on something you don't want to do.
Hiring a housekeeper eliminates all that negativity, gives you your time back, and ensures you always have a hope that is neat, peaceful, and prepared for any unannounced guests.
Additionally, a housekeeper can help you stay on top of a busy schedule, reminding you of upcoming engagements, making appointments on your behalf, and keeping tabs on maintenance tasks that are required around the home, but often get pushed aside if you're too busy to handle them. That means a housekeeper could ultimately pay for themselves, helping you avoid expensive repairs around the home by keeping everything maintained and identifying potential problems when they're still small enough to be fixed.
How to find a housekeeper near me
Many cleaning companies offer housekeeping services if you are looking for a part-time housekeeper to help you stay organized. You can also advertise housekeeping jobs near you in local and trade publications or websites.
There is no fixed path of set of qualifications required to be a housekeeper, but there are a number of common ways people enter the field:
Experienced cleaners who have expanded their skillset to manage other staff and scheduling
Commercial housekeepers looking to move into the private sector
Hospitality majors
Highly organized individuals who love taking care of others
Almost any path into housekeeping is possible. As the employer, it's down to you to vet candidates and decide if they are a good fit for your household. Begin by asking your potential housekeeper interview questions about their background and experience, including any specifics about your home and family, such as familiarity with pets, their driving record, or precautions they'd take with cleaning products in a home with children.
Hiring a housekeeper through a company such as Pro Housekeepers can help alleviate some of your concerns about inviting someone to work in your home. Most companies conduct background checks, and have pre-interviewed all their employees to ensure they have the skills you need.
Housekeeping checklist
While the skills you require for your housekeeper will vary depending on your home and schedule, here are some of the most common duties that housekeepers are expected to perform:
Tidying and organizing
Sweeping, vacuuming, and polishing floors
Dusting and polishing surfaces
Sanitizing kitchens and bathrooms
Cleaning sinks, toilets, baths, and showers
Emptying trash and putting the can out for collection
Collecting and organizing mail
Keeping track of cleaning supplies
Making and changing beds
Washing, ironing and putting away laundry
Grocery shopping and running small errands
Washing windows and sweeping outdoor spaces
Overseeing other household assistants (gardener, window cleaner etc.)
When hiring someone to work in your home, ask to see their housekeeping resume to look for relevant experience and references. Expect to pay more for established or agency housekeepers. You can often negotiate a lower hourly fee by offering full-time hours. A housekeeper who visits for a few hours each week will cost more per hour but less overall than a full-time housekeeper, which can help you find a housekeeper to suit your needs and budget.
Helpful article: Turn Over a New Leaf with an Organized, Decluttered Home
Want to work as a housekeeper?
With a little experience, almost anyone can work as a housekeeper. There are few formal training requirements, making it an ideal position if you don't have a college education. Background experience in cleaning, the ability to manage staff and stay organized, and good people skills are the main requirements for a position as a housekeeper. Common housekeeping skills include knowing how to manage your time and work effectively, following safety procedures when using cleaning solutions, and anticipating your employer's needs.
To apply for a position as a housekeeper, write a housekeeping cover letter outlining your background, skills, and why you'd be a good fit. You can apply with an agency or work as an independent contractor. It's usually easier to find work if you are an agency housekeeper, and the agency will act as an intermediary to resolve any issues with your employer, but independent housekeepers might have more control over negotiating their income and availability. Look for "Housekeeper needed" notices in your local job sites and newspapers to determine how big the market is in your area for housekeeping positions.