March 9, 2019
Your Complete Guide to Spring Cleaning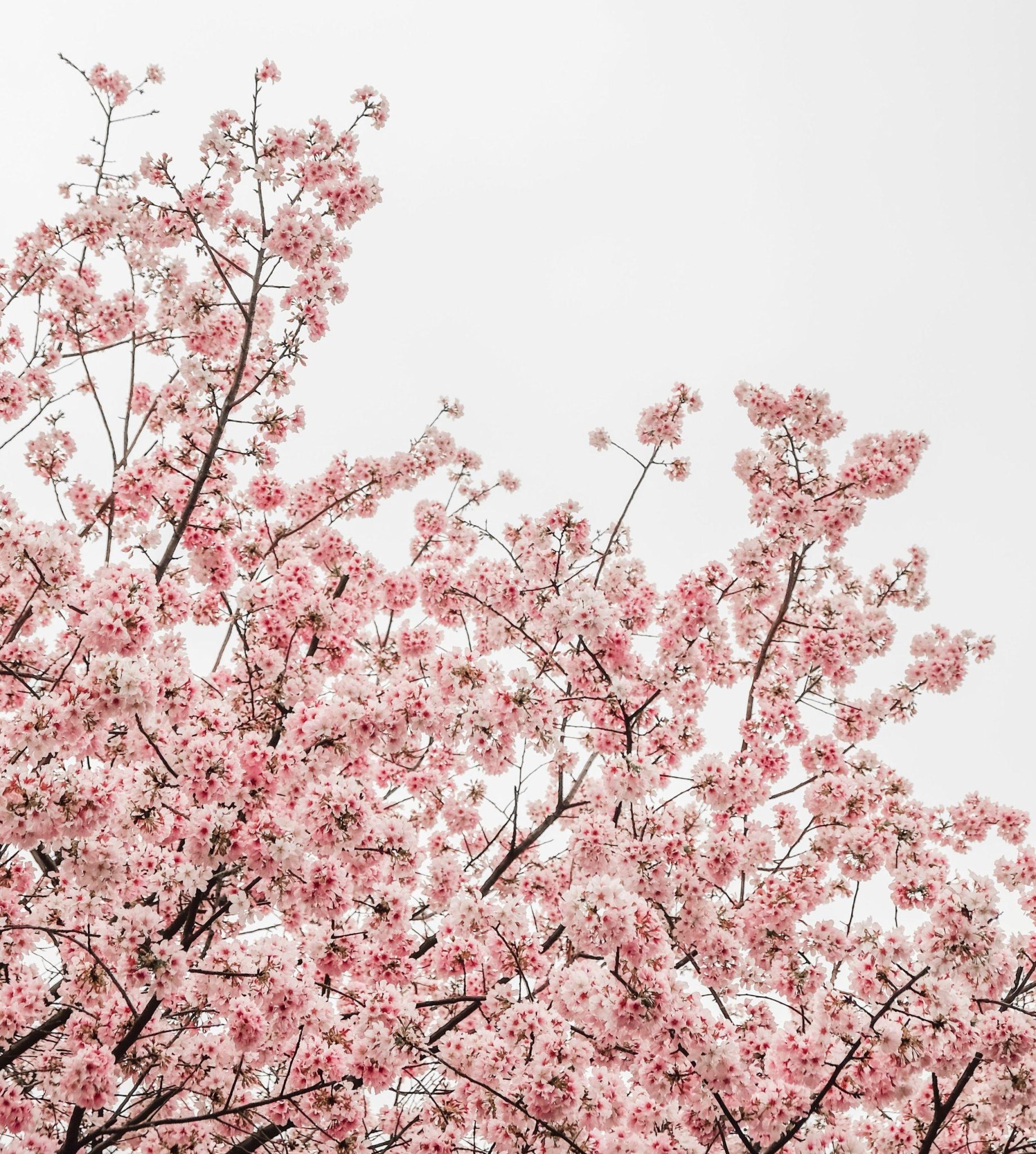 It's that time of year again. Nobody likes to spring clean, but there are more benefits to making your home fresh and clean than you might realize. Not only does a clean home look and feel better, it's a healthier and more relaxing place to live.
Here at Pro Housekeepers we take the hassle out of spring cleaning. Just follow our handy guide and top tips to get your home sparkling clean in no time.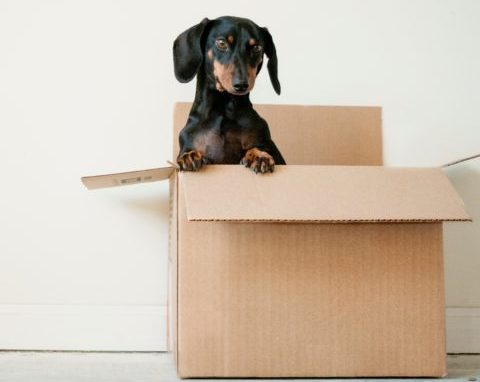 Before You Begin
It might be tempting to tackle that one spot that's been annoying you, but a bit of forward planning can make spring cleaning much easier. Take the time to declutter first before you worry about cleaning. A tidy house is much easier to clean and maintain. Label a few boxes and take them with you between rooms so you can keep items that are out of place together and move them all at once.
Pro Tip: Got kids? Get them involved in organizing their old toys and clothes. Label cheap, colorful storage boxes and give all their possessions a home so they don't overrun your house.
Start From The Top
Begin at the farthest point from your door and work towards it. You want to get the dirt out, not move it between rooms by going back and forth through spaces you've already cleaned. Whether you live in a two-room apartment or a twenty-room ranch, you'll save yourself lots of time and effort if you approach your floor plan in an organized way.
Pro Tip: Start from the top in each room as well. Dust light fittings and light frames before you change the bed or vacuum the carpet. Don't make more work for yourself by having to clean the same area twice.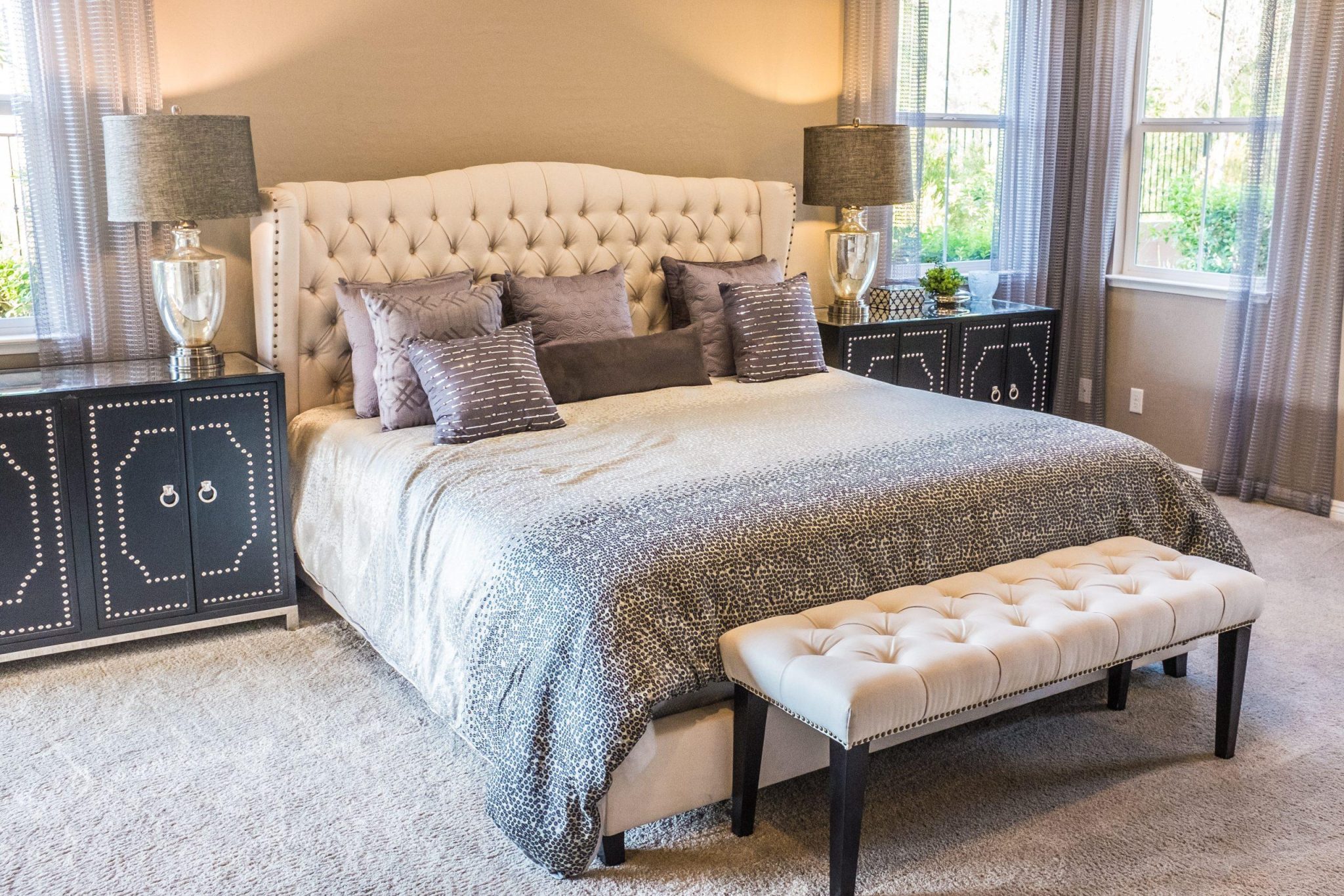 Bedrooms
Your bedroom should be your sanctuary but oftentimes bedrooms become cluttered or overlooked. Whether you want to reclaim use of that one chair always covered in piles of clothes, reinvent your space, or simply give everything a thorough scrubbing, our complete spring cleaning guide will have you falling in love with your bedroom all over again.
Checklist
Dust light fittings and fixtures
Wipe down pictures and paintings, baseboards, and door frames
Wash walls and windows
Vacuum curtains and/or wipe down blinds
Rotate the mattress and change bedding
Wash comforters, blankets, and pillows
Wipe down furniture and shelves
Move furniture where possible to clean underneath, or use a long-handled vacuum attachment
Deep clean carpet or vacuum thoroughly
Spring cleaning your bedroom might seem like a daunting task but it doesn't have to be, and you don't need a lot of expensive products to do it. A few drops of dishwashing liquid in a bucket of warm water are all you need to wash walls, baseboards, door and picture frames. Use a damp sponge to soak up dust and lint.
Your bed should be one of the most welcoming places in your house, and there's nothing like getting under fresh linen. Turn and flip your mattress to prevent sagging and make it last longer. Consider investing in an inexpensive mattress protector to protect from dust mites and allergens and keep your mattress cleaner.
Pro Tip: Most down and synthetic pillows can be machine washed and dried on a low setting — although you'll want to get the temperature to at least 140 degrees to kill dust mites. Foam pillows can't be machine washed, so dust them with cornstarch and thoroughly vacuum them after at least an hour.
You can hire carpet cleaners if you want a really deep clean, or you can also use cornstarch or specialist carpet cleaning powders that are vacuumed up. Diatomaceous earth, available at most large grocery stores, can also be used on carpets, hardwood flooring, and around baseboards if you're worried about bugs including ants, mites, spiders, and other household pests. Just vacuum it up after an hour the same as you would with cornstarch.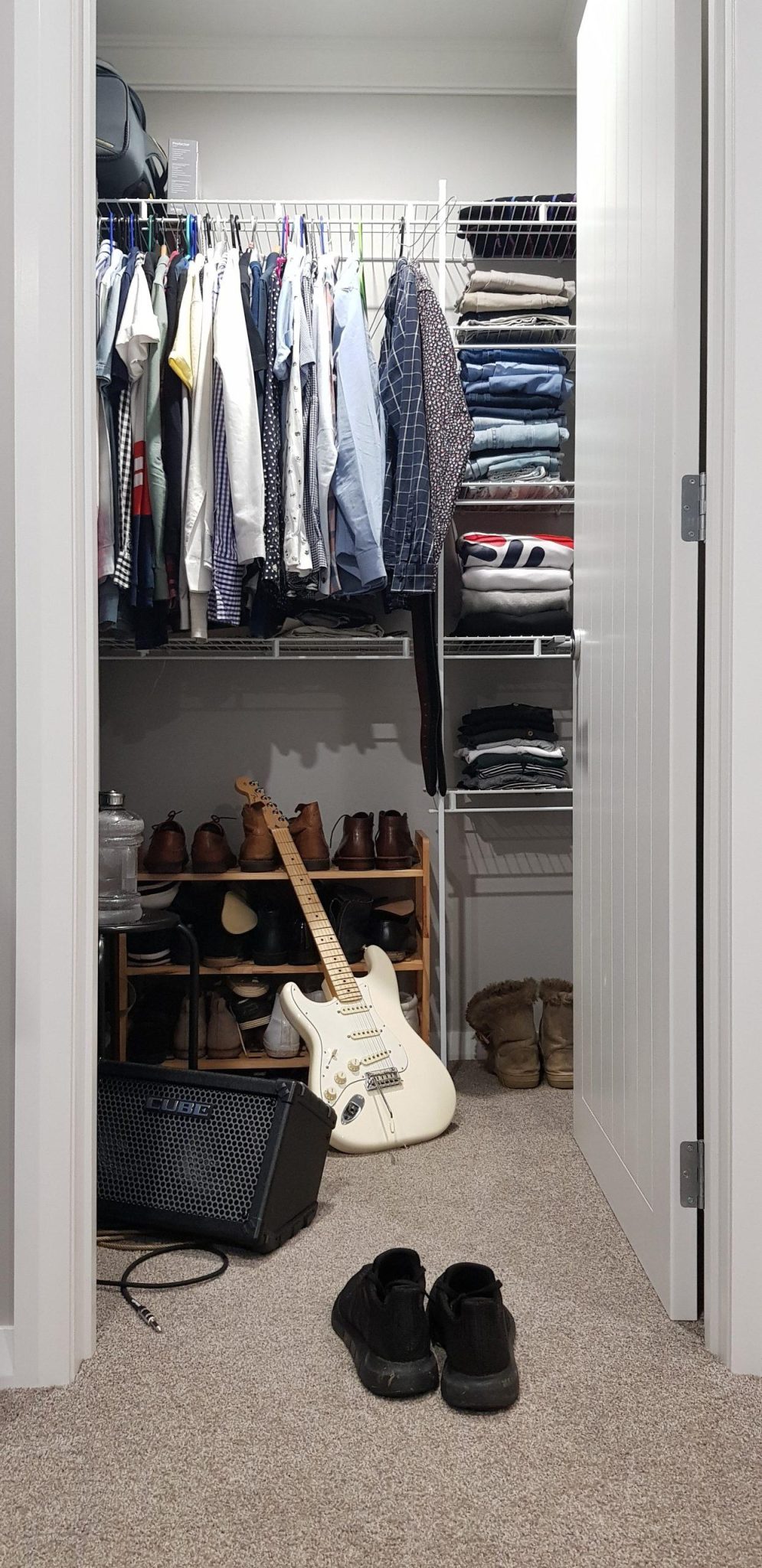 Closets
You might not think there's much to spring clean in your closet, but taking the time to declutter and sort through your clothes is well worth it. As well as getting rid of things you don't need, you can free up space for items you do, and make your closet a clean, inviting space in your home.
Checklist
Dust light fittings and fixtures
Wipe down shelves, baseboards, and door frames
Wash walls
Remove your clothes and reposition them to better manage your space
When you're spring cleaning your closet, don't just remove your clothes and put them back once you're done cleaning. Take the time to go through and really consider if you still need each item. A recent study showed Americans haven't worn a massive 82% of their wardrobes in the past year, and the average woman has more than $500 of unworn clothes in her closet.
You can also rotate your wardrobe and put seasonal clothes away until later in the year. By keeping what you need at the front of your closet, you won't risk undoing your good organizational work by looking for something you need at the back of everything else. Make sure to label boxes and storage bins so you can easily find what you need when the seasons change.
Pro Tip: When you return clothes to your closet after spring cleaning, rotate the hangers so they're all facing away from you. As you wear clothes and put them back, turn the hangers. At the end of the year, look at the hangers that haven't been rotated and consider if you really need those clothes anymore.
Old clothes can be donated to Goodwill and local charities or sold at garage sales or sites like eBay to earn some extra cash.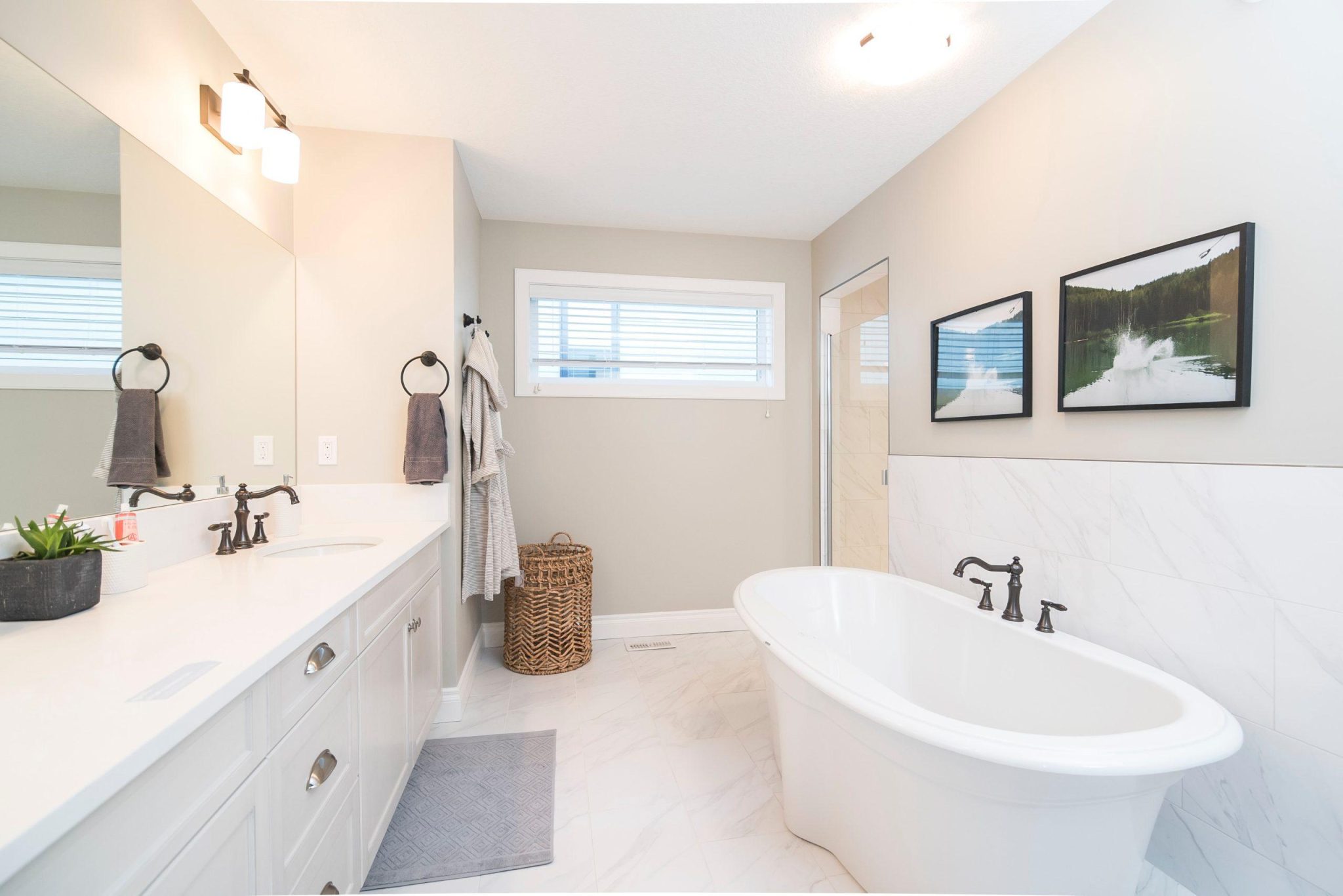 Bathrooms
Your bathroom is probably the space you're most dreading when it comes time to start spring cleaning. However, much cleaning you do during the year, bathrooms are particularly prone to collecting dirt and grime. But with our quick guide, you can get your bathroom gleaning again in no time.
Checklist
Dust light fittings and fixtures
Wipe down mirrors, shower doors, baseboards, and door frames
Wash walls and windows
Vacuum curtains and/or wipe down blinds
Clean grout and seals, including shower door tracks
Clean plugholes and pipes
Soak your showerhead
Wipe down furniture and shelves
Discard any old or empty bottles and boxes, including expired medication
Wash towels, bathmats, and washcloths
Replace Loofahs and shower sponges
Move furniture where possible to clean underneath, or use a long-handled vacuum attachment
Clean and disinfect floor
You might have to use more elbow grease in the bathroom than elsewhere, but the results will be worth it. You can use an old toothbrush to scrub grime from shower door tracks or tile grout, and common household ingredients make effective cleaners, saving money on expensive products.
Vinegar is a fantastic natural cleaner with antibacterial properties that can kill 82% of mold species. To treat mold and mildew in your bathroom pour white distilled vinegar into a spray bottle and douse the areas that need to be cleaned. Leave for at least an hour before wiping down. Clean your showerhead by soaking it in a bag filled with white vinegar overnight.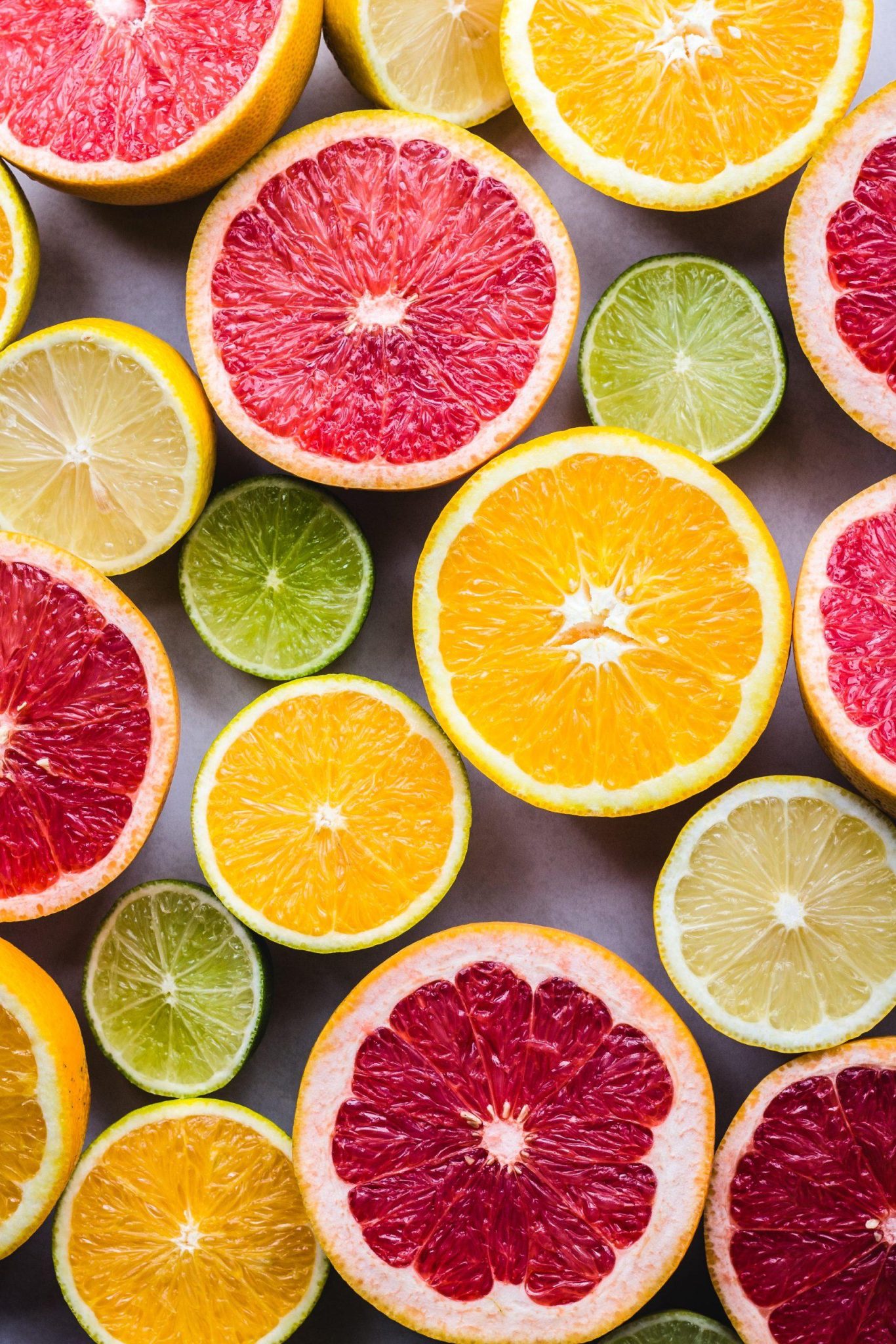 Citrus fruits are also effective cleaners. Citric acid kills mold, bacteria and mildew, as well as removes soap scum, hard water stains, lime, rust, and calcium deposits. That makes citrus fruits, especially lemons, a great, cheap, green way to clean your bathroom. Use halved lemons to clean fixtures and fittings including faucets, shower hoses, and sinks. Add salt directly to the lemon to scrub away any stubborn stains. Use lemon juice in water as a general cleaning solution for wiping down baths and showers, or a 1:1 mixture of lemon juice and salt to treat mold and mildew.
Pro Tip: Blocked drains are any homeowner's nightmare, but you can help alleviate them during your spring clean. First clean out any hair and other clogs from your drains using cheap plastic drain snakes, available at most grocery and hardware stores. Then pour baking soda into the drain and fill with white vinegar. Your middle school "volcano" experiment is a fast and effective cleaner. Once the bubbles subside, you'll have a cleaner, clearer drain and your plumber—and wallet! —will thank you.
Make sure to wash or replace worn-out bathmats, shower curtains and liners, and washcloths. You can use white vinegar in your washing machine or put a cloth dampened with vinegar into your dryer to get mold and mildew out of soft fabrics.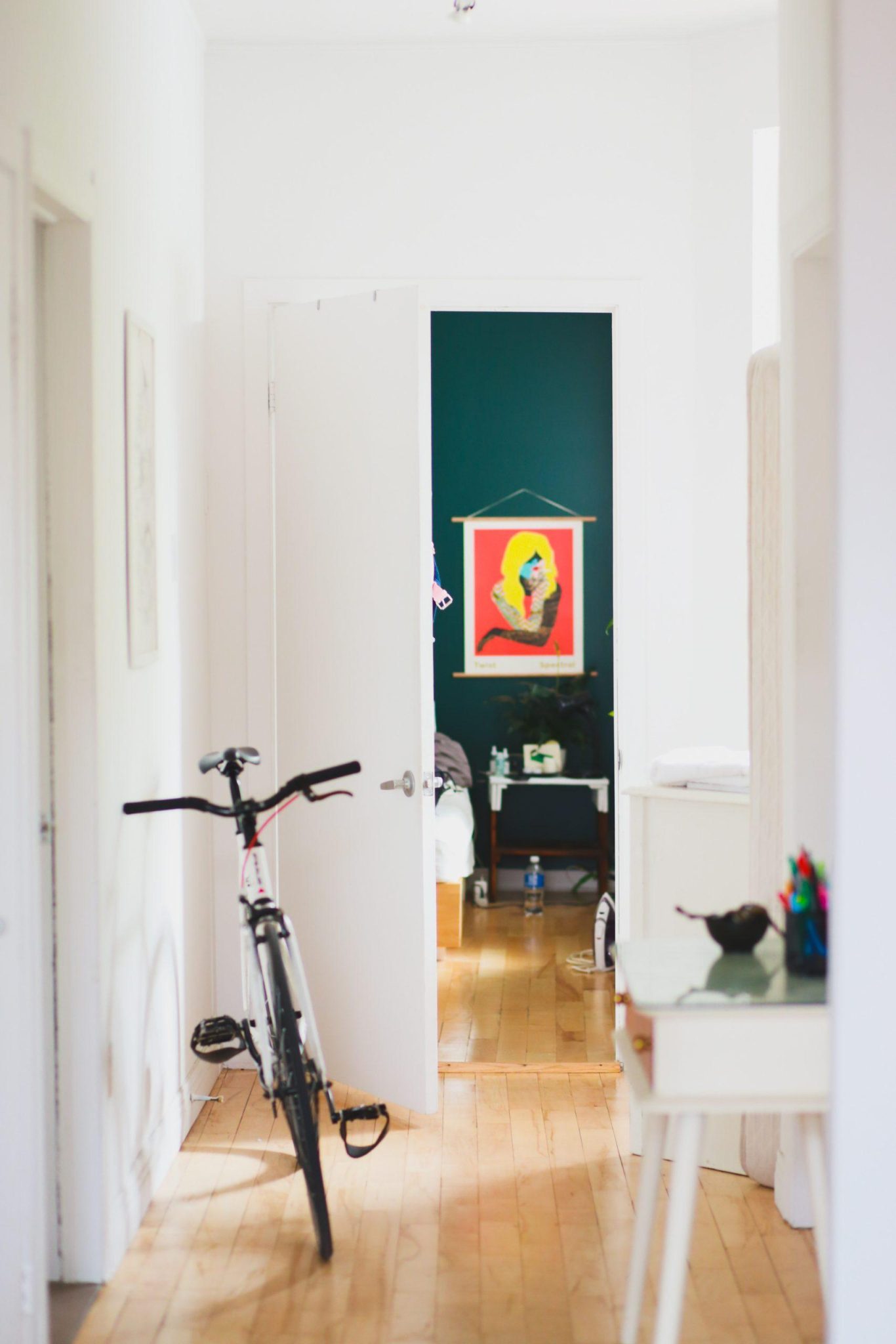 Hallways and Stairs
Halls and stairs are probably the easiest areas to spring clean, but also the easiest to overlook. Don't forget these vital parts of your home when you're spring cleaning.
Checklist
Dust light fittings and fixtures
Wipe down picture frames, baseboards, and door frames
Wash windows
Polish bannisters and handrails
Wash walls
Vacuum or deep clean carpets
Reaching high light fittings on your stairs can be difficult or dangerous. Avoid stepladders and instead opt for a long-handled duster or brush to get to hard-to-reach places.
Pro Tip: When you're washing windows, choose a cloudy day. If cleaning solutions dry too fast, they leave streaks behind that will undo all your hard work. For glass surfaces, plain water and a microfiber cloth are more effective than abrasive cleaning detergents.
Make your own DIY polish for wooden furniture and fittings. Mix half a teaspoon of olive oil with half a cup of vinegar or lemon juice, add to a plastic spray bottle, shake well, and spray onto a microfiber cloth. Always test an inconspicuous area first.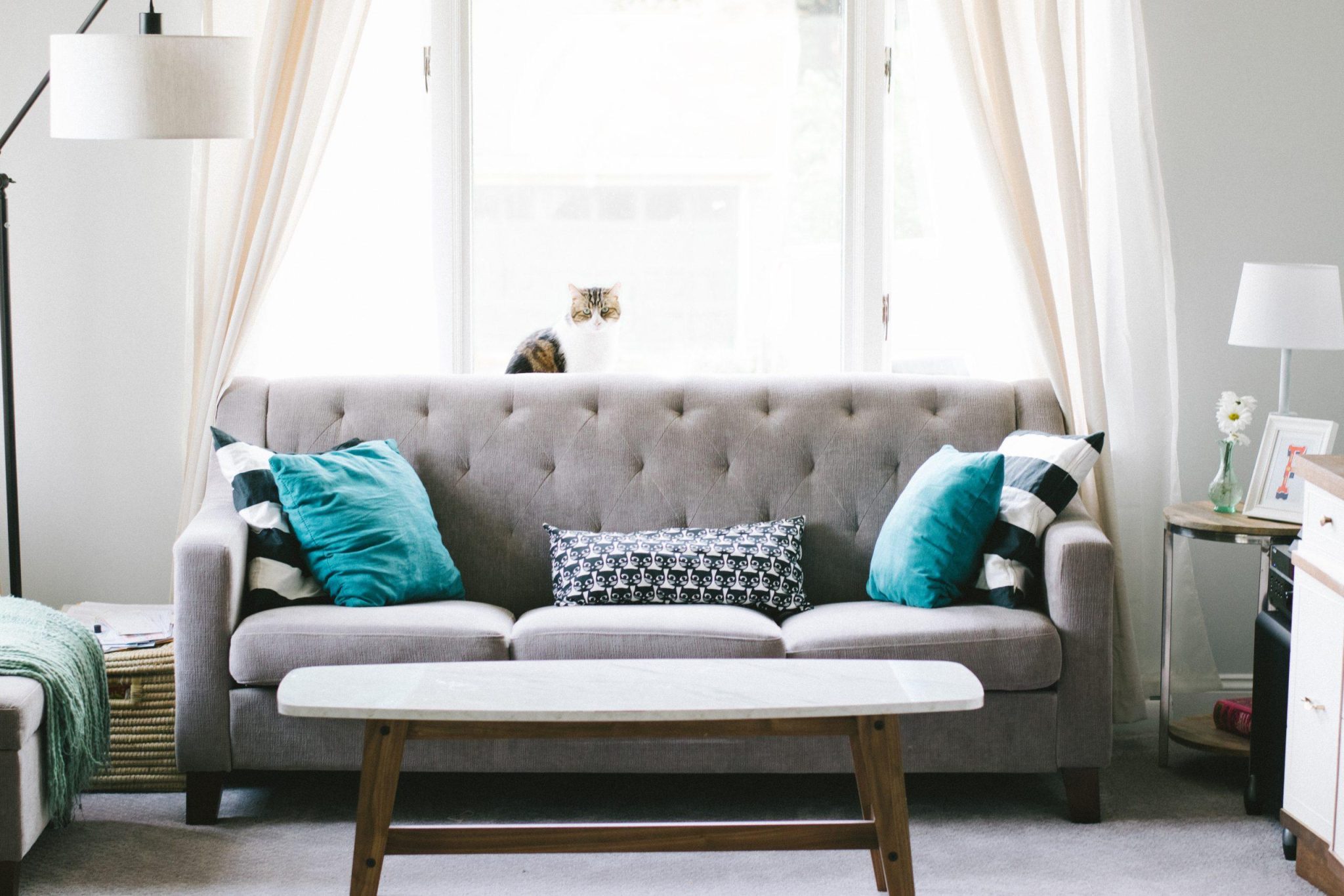 Living Room
The living room is the heart of your home. You want it to be fresh and clean, but spring cleaning the place where the family spends most of their day can be tricky. Follow our spring cleaning checklist and your living room will be immaculate in no time.
Checklist
Dust light fittings and fixtures, including ceiling fans
Wipe down mirrors, picture frames, baseboards, and door frames
Wash walls, windows, and sliding glass doors
Clean sliding glass door tracks
Vacuum curtains and/or wipe down blinds
Wipe down furniture and shelves
Move furniture where possible to clean underneath, or use a long-handled vacuum attachment
Vacuum chairs and sofas
Wash cushions and soft furnishings or refresh in the dryer
Deep clean carpet or vacuum thoroughly
The biggest chore to tackle in your living room is probably your furniture. Cloth chairs and sofas can be steam-cleaned or vacuumed to remove dust and dirt. Always use the appropriate cleaner on other materials such as leather or suede to keep your furniture in perfect condition.
Don't neglect knickknacks, ornaments, and even your TV remote. Dust books and bookshelves, polish glass and metal ornaments, and give your remote a thorough clean with an antibacterial wipe. You might be horrified by what comes off it!
Pro Tip: Little changes can make a big difference. Switch out your candles or air fresheners for light, summery scents to immediately change the mood of your living room. There's nothing like a fresh, clean house and scent plays a big part in how we feel about a space.
Most curtains and drapes can be vacuumed clean if taking them down to launder is too big a chore. Alternatively get them dust-free by putting them in the dryer on a low setting with a fabric softener sheet. You can also use fabric softener sheets to wipe down window blind slats; the sheets trap dust and dirt, and make cleaning a breeze.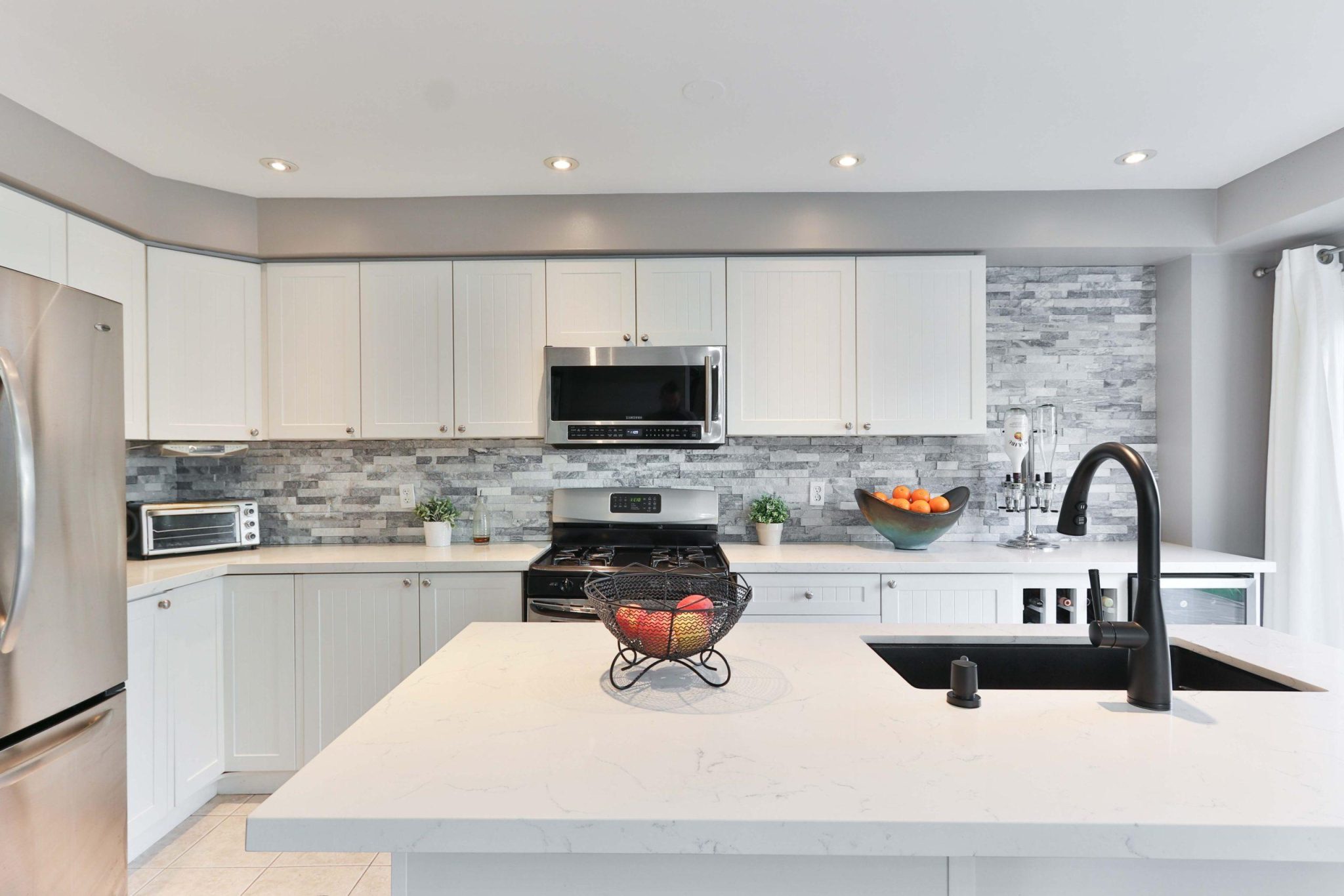 Kitchen
Spring cleaning your kitchen doesn't have to be a nightmare. As the room where you prepare all your family's food, there are health benefits to ensuring your kitchen is clean and tidy, as well as having the joy of a fresh, neat space to work in.
Checklist
Dust light fittings and fixtures
Wipe down cupboard tops, baseboards, and door frames
Install new shelf paper inside cupboards
Wash walls and windows
Vacuum curtains and/or wipe down blinds
Clean grout and seals
Clean plugholes, pipes, and garbage disposals
Wipe down inside cupboards and on shelves
Discard expired food, spices, and sauces
Wash or replace hand towels, washcloths, and sponges
Move furniture where possible to clean underneath, or use a long-handled vacuum attachment
Clean the cooling coils on your refrigerator
Sanitize your dishwasher
Clean inside large appliances including your oven and microwave
Clean inside cooking gadgets and small appliances like toasters
Descale kettles and coffee makers
Clean and disinfect floor
Check smoke alarm and carbon monoxide detector batteries
Lots of people are nervous about deep cleaning and sanitizing their kitchen appliances during a spring clean. Fridges, freezers, and ovens aren't easy to clean well, but doing so can improve their performance and extend their lifetimes.
Clean a garbage disposal quickly and easily by cutting a lemon in half and using the disposal to grind it, preferably using hot water. Vinegar and baking soda can also be used but should be done so sparingly, because it can damage the rubber components inside the disposal.
Remove calcium deposits from coffee machines and kettles by putting a 50-50 mix of water and white vinegar through a heating cycle and leave for at least an hour. Microwave half a lemon in a cup of water for three minutes to remove dried-on food.
Pro Tip: It might be tempting to use the self-cleaning feature on your oven, but if it's been a while since it was cleaned this will probably fill your house with smoke and a terrible odor without cleaning much. Instead make a thick, spreadable paste of baking soda and water and scrub the inside surfaces of your oven with a generous coat of the mixture, avoiding the heating element. Leave the mixture on the oven overnight, then wipe the oven clean with a damp cloth. To remove hard-to-reach or dried on residue use white vinegar in a spray bottle to remove the last of the baking soda.
(Check out other great expert oven cleaning tips: 17 Bakers and Cleaning Experts Reveal Their Tried and Tested Tips to Clean and Maintain Your Oven)
Pull out your appliances to clean behind them where you can, and make sure to vacuum the cleaning coils of your fridge in order to keep it running perfectly.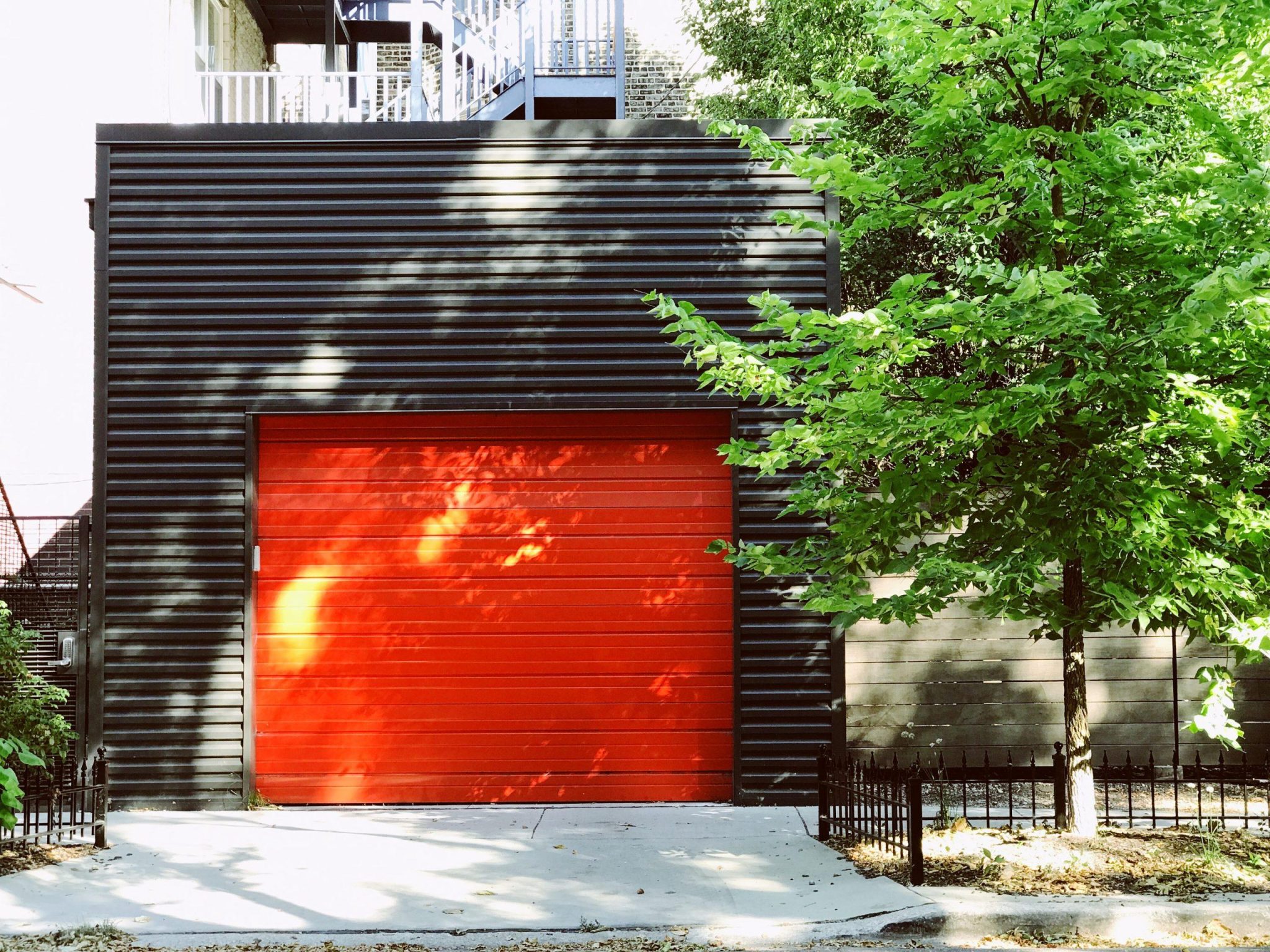 Garage & Exterior
Now your house is shining clean, don't neglect the exterior. Follow our spring cleaning checklist and get every part of your property clean and tidy.
Checklist
Dust light fittings and fixtures
Wipe down storage shelves and door frames
Silicone spray garage door tracks and hinges
Properly dispose of old and expired paints, fuels, and chemicals
Oil and refuel lawnmowers and other gardening equipment
Clean oil stains and mop or sweep floor
Remove leaves and dirt from gutters
Trim shrubs and bushes
Power wash your house exterior, decking, and paving
Garages are often overlooked and become the place where junk collects. If you've got workbenches or storage shelves in your garage, take the time during your spring clean to declutter, put your tools and possessions in labeled boxes, and donate or discard anything you don't want or use anymore.
Old paint, oil, fuel and cleaning chemicals need to be disposed of correctly. Never put any chemicals down the drain or onto your garden. Latex paint can be allowed to dry before disposal or mix it with cat litter to make it solid. There are organizations that recycle paint as well, so a search of your local area might reveal a company that will take it off your hands.
Motor oil is required to be recycled by many cities and states. Often auto parts stores and service stations will take oil for recycling. Your local waste authority will usually accept old garden chemicals for proper disposal at household waste facilities.
Pro Tip: The best way to dispose of old gasoline is to use it. As long as it's been stored in an airtight container you can mix old gasoline with new in your lawnmower without adverse effects. If the gasoline has been exposed to the air for a long period however, you're better off taking it to your local hazardous waste disposal center.
With Pro Housekeepers' complete guide to spring cleaning, you'll be able to spring clean your house efficiently and effectively, without spending a fortune on pricy supplies and chemicals.
Still daunted? Our cleaning Pros have spring cleaning down to a fine art and we're here if you need our assistance. Give us a call or book online today to arrange your spring cleaning at the hands of a crew of dedicated cleaning experts.